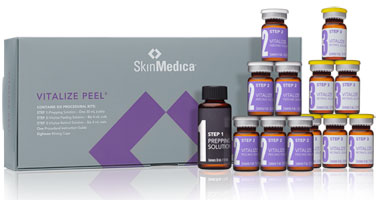 Benefits
No Downtime
Noticeable, immediate outcomes
Lasting skin improvements
Customized topical formulations for your needs
Chemical Peels
Inner Image utilizes the latest in proven technologies, including our skin peels. There is no single peel which is good for all things and all people, thus choosing the right peel and having it applied by an experienced practitioner are vital to achieving the results Inner Image clients demand.
Inner Image uses a variety of peels to achieve optimal results. A few of our more popular peels are:
lluminize Peel®
This non-invasive very superficial chemical peel utilizes a novel approach to chemical peeling with a newer generation of alpha-hydroxy acids (mandelic and malic acid) in combination with phytic acid and commonly used peeling agents (salicylic acid and resorcinol) to maximize skin rejuvenating effects with low irritation.
Enhances skin glow and radiance
Helps restore a more youthful appearance
Improves clarity, color and skin texture
Patients achieve enhancement of skin appearance with minimal downtime and discomfort
Appropriate for first-time chemical peel patients or patients looking for a gentle, very superficial peel
May be performed on Fitzpatrick Skin Types I – VI
Little or no visible peeling
Vitalize Peel®
The Vitalize Peel is the most popular SkinMedica peel that is appropriate for all Fitzpatrick Skin Types. It contains a proprietary blend of ingredients to help rejuvenate the skin. Achieve visible improvement after one treatment with optimal results after a series of treatments. The Vitalize Peel combines resorcinol, lactic, salicylic, and retinoic acid (at aesthetician's discretion) to offer dramatic improvement in texture and tone. The renewal process stimulates collagen production, improves pigmentation, acne, and melasma. The skin appears healthier and more youthful with minimal downtime. For best results a series is recommended.
Rejuvenize Peel®
The Rejuvenize Peel can be used on Fitzpatrick Skin Types V – VI after the patient has established tolerability to Vitalize Peel or with physician consent. The Peeling Solution in the Rejuvenize Peel contains Salicylic Acid, Lactic Acid, Resorcinol, Panthenol, and Isoceteth-20. This peeling solution combined with a Retinol Solution can substantially improve the appearance of the skin.