Platelet Rich Plasma/Vampire Procedures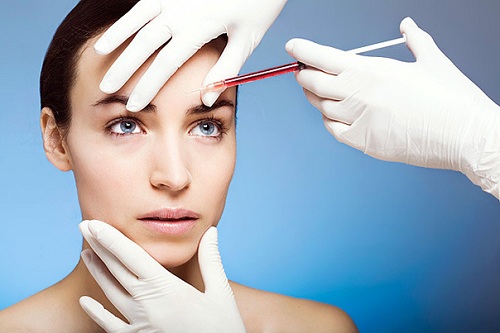 Benefits
All natural resources – your own blood!
Smoother, brighter face
Tightens sagging skin
Stimulates collagen production
No side effects
Minimal downtime
What is -Platelet Rich Plasma (PRP)/Vampire Procedures?
Platelet Rich Plasma (PRP), utilizes your own bodies healing ability to stimulate skin recovery and smoothing. Available as both an injectable and topical, PRP is on the cutting edge of regenerative therapies.
PRP is blood plasma with concentrated platelets and other growth factors that are gathered from your own blood sample. The internal essence of your blood contains life-giving fundamental proteins and growth factors that are designed to restore and strengthen your body. The use of PRP has long been used in a variety of aesthetic, surgical and wound care fields of medicine around the world. This revolutionary natural procedure offers incredible skin rejuvenation by stimulating and rebuilding the underlying structural integrity of your skin with your own nutrient-rich cells. When introduced into deeper layers of the skin, PRP signals the cellular process for new tissue and collagen growth resulting in smoother and more youthful appearance.
Treatment Candidates
Anyone who is using cosmetic treatments for lines, wrinkles, poorer skin condition and general skin reconditioning can be improved with platelet rich plasma therapy or PRP. And anyone who has had problems tolerating products for these sorts of procedures will be encouraged by the fact they are using purely their own cells and tissues.
How does it work
A small sample of blood is painlessly drawn from your arm and spun down in a centrifuge to separate the PRP from the remaining blood components. The PRP is then applied to the skin during the Micropen treatment. PRP can also be injected directly into specific areas of the skin for targeted improvement of under-eye circles/darkness, deep wrinkles, and scars.
The Results
PRP is excellent for improving skin texture, deep wrinkles, scars, and post procedure healing time. The most dramatic results so far have been in the crepey skin problems in areas such as under eyes, necks and decolletage areas. It is not designed to replace surgery for loose skin where procedures such as blepharoplasties etc would be more appropriate.
What's the Difference Between PRP and PRFM?
The value of PRP is long established. A new technique, which some are referring to as the "next generation" of this treatment, is known as Platelet Rich Fibrin Matrix (PRFM).
PRP is prepared by spinning blood that has been drawn from a patient in a centrifuge. This separates the blood platelets and plasma from red and white blood cells. Another step is added to this process to create PRFM. Calcium chloride is added to the plasma that has been separated, with the result that a gel-like substance is created.
Value and Uses of PRFM
This difference in the structure of the material makes it possible for the PRFM to remain in the body longer. While PRP can support healing for a day or so, PRFM can continue to provide healing benefits for up to a week. In addition, the PRFM process reduces the presence of white and red blood cells. These have the potential to cause inflammation and other unwanted effects.
PRFM is not a dermal filler, but it can be used to treat very fine wrinkles or reduce dark circles under the eyes. It can also be used on acne scars and as a regenerative hair loss treatment to improve the health of hair follicles.