Infini Genius
By Lutronic
Groundbreaking radio frequency (RF) microneedling technology that has revolutionized skin enhancement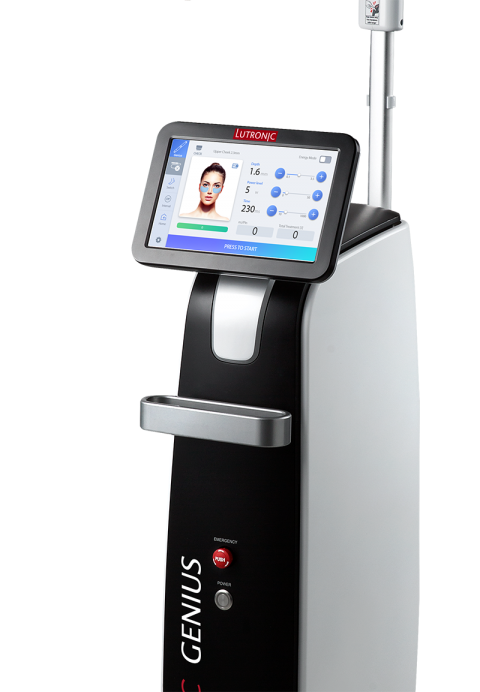 Benefits of Microneedling with the Infini Genius
Boosted collagen production
Reduced appearance of scars
Smoother skin
Reduced appearance of wrinkles
Increased skin elasticity
Firmer, healthier skin
A lifting effect as skin regenerates from within
Can treat a wide variety of areas
Safe, non-invasive and effective treatment
Works on all skin types
Infini Genius by Lutronic is a groundbreaking radio frequency (RF) microneedling device that has revolutionized skin enhancement. The Infini Genius triggers natural collagen production to treat scarring, improve skin quality, and reduce the signs of aging. Treatments with the Infini Genius can help you smooth and rejuvenate skin on the face, neck, décolletage, or other body area.
How does the Infini Genius Work?
The Infini Genius is the most advanced microneedling system available, triggering "neocollagenisis," or natural collagen production within the deeper skin layers. The tiny needles in the system emit RF (radiofrequency) energy to create custom-controlled tissue damage which stimulates skin regeneration. Custom serums can be applied following treatment, now able to enter the deeper skin layers through the microchannels created by the Infini Genius.
Genius + LaseMD = Amazing!
Ask about combining Genius and LaseMD technologies! Amazing results from two incredible new technologies. Learn more…
What is Different About Microneedling With The Infini Genius?
The Infini Genius offers outstanding control and accuracy. This groundbreaking microneedling system has smaller needles, able to deliver energy faster to area being treated, with the treatment more comfortable for you to experience. Fractional heating from the system protects the surrounding skin and tissue, while triggering skin regeneration from deep within.
Information Video on the Lutronic Genius