What is Restylane?
Restylane is an injection that is made up of a non animal based, clear, completely biodegadeable gel that contains hyaluronic acid. Hyaluronic acid is a naturally occurring sugar in the body. This product originated in Sweden and is now marketed by Medicis in the United States. Medicis is a top pharmaceutical company that specializes in many different types of treatments for the skin. Restylane is made up of tissues that have been cultivated in a lab and for many, this is an excellent and effective alternative to many other types of fillers including collagen and Hylaform®, which both are made up of animal products.
Treatment Candidates
Restylane will only need a few injections and there are no incisions or tissue removal with this procedure. There is a very low risk for complications, which pretty much means that almost everyone who wants to smooth the face and reduce wrinkles and lines can be a good candidate for a Restylane injection.
How does it work?
After it is injected, Restylane moves into the skin and draws and binds water. This allows for immediate visible results. There is nothing in this product to prevent natural movements of oxygen and nutrients in the treated area. With time, Restylane is reabsorbed by the body and leaves no trace of it behind. Because of this, it might be necessary to have touch up treatments to maintain your initial results.
Benefits
Since Restylane is the only injectable filler that is not made up of animal based products, the allergy testing that you might find with other types of fillers will not be necessary before being treated with Restylane. Many patients find that this is one of the best benefits of the treatment since allergy testing can take a couple of weeks to get done.
The Results
Restylane offers people many different benefits that include a younger looking appearance. Restylane can help to fill in minor to moderate wrinkles or lines and is very effective when treating around the mouth, eyes and nose. When this product is used for lip enhancement, it has been found to add definition and volume to the lips to create a pronounced and sensual pout. Since the hyaluronic acid that is used does not come from animals, there is no risk of allergic reactions for those who have allergies to animals. This injection option also has been found to be more comfortable to receive than many other alternative fillers that incorporate animal tissue. Maybe the most important benefit of Restylane is that the treatments look totally natural and last for a very long time. Restylane is also reasonably priced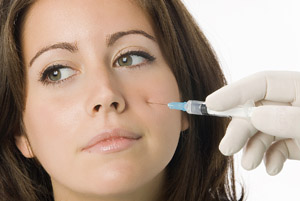 Benefits
Low risk
Ideal for younger-looking appearance, wrinkle reduction
Contains Lidocaine to help improve comfort during treatment
Subscribe and Save
Register for our newsletter to get the latest information on products, procedures and special offers!