Laser Hair Reduction
Inner Image uses the state-of-the-art StarLux® System by Palomar for permanent hair reduction in men and women. The StarLux System uses a unique long pulse-width that delivers energy to the skin to create permanent hair reduction for men and women. With its patented Intense Pulsed Light Technology, the StarLux has the power and speed to quickly and permanently remove unwanted hair. And at a rate almost 10 times faster than that of traditional laser hair removal devices, the StarLux is a more efficient and cost effective permanent hair removal solution.
Treatment Candidates
Laser hair removal can safely treat unwanted hair in small and large areas of the body and face. The laser works best on darker hair and will not be effective on blonde, grey, or white hair. Laser hair removal is an excellent treatment choice for those who experience irritation from shaving and waxing or for those who want smooth hair free skin without the hassle of daily maintenance. Your  provider will determine if you are a good candidate for StarLux laser hair removal during your consultation. If you are tan or have naturally dark skin pigmentation may not be ideal candidates for laser hair removal.
How it Works
Laser hair removal works by targeting the pigment inside the unwanted hair follicle. Pulses of intense light are focused on these unwanted follicles, heating the pigment deep inside the hair and disabling the cell mechanism responsible for growing new hair. Since the Starlux only targets the hair pigment, the surrounding pores and skin structure remain unaffected, leaving the skin smooth and permanently hair free. Several treatments are required for long term and permanent hair reduction and can vary from person to person.
Results
Hair reduction is typically noted about 1-2 weeks after your treatment as the treated hairs gradually come up to the surface and falls out. New hair growth is typically noted in 4-6 weeks and it usually less coarse and more sparse. This is the time frame for your next treatment. A series of 5-8 treatments spaced at about 4-6 weeks intervals is common.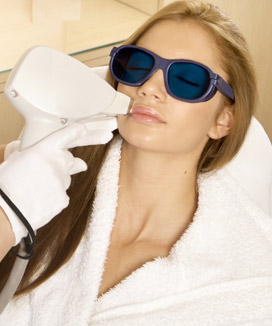 Benefits
Permanent results
Less irritation than shaving and waxing
Quick treatments
Subscribe and Save
Register for our newsletter to get the latest information on products, procedures and special offers!