DiamondGlow® Microdermabrasion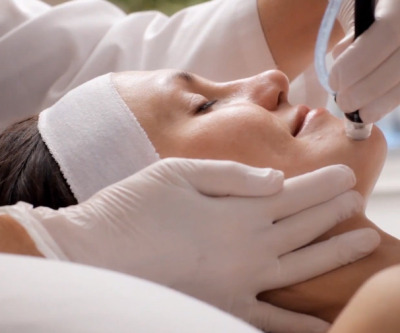 Benefits
No Downtime
Painless, soothing treatment
Noticeable, immediate outcomes
Lasting skin improvements
Customized topical formulations for your needs
What is DiamondGlow?
Previously branded as Silkpeel®, DiamondGlow is more than a facial. Unlike traditional wet facial treatments, which rely on chemical exfoliation to treat skin at surface level, DiamondGlow's™ patented recessed diamond tip wand delivers a next-level resurfacing treatment that deeply cleans and rejuvenates the skin.
Treatment Candidates
DiamondGlow is a safe and effective rejuvenation procedure for all skin types and most patients are excellent candidates. DiamondGlow is the best treatment for bringing out the signature glow of healthy skin and for improving skin tone and texture, acne scarring, hyperpigmentation, photo-damage, and  fine lines and wrinkles. It is also an excellent maintenance and preventative treatment for healthy skin of all ages.

 EXFOLIATES
To uncover renewed skin

EXTRACTS
To deeply cleanse the skin and remove debris from pores

INFUSES SKIN
With nourishing SkinMedica®
Pro-Infusion Serums
Similar to microdermabrasion, the DiamondGlow System combines non–invasive exfoliation with deep delivery of patient–specific solutions directly to the skin without the use of crystal or other chemical exfoliants. After a careful skin analysis, your practitioner will choose one or more of our specialized treatment serums, formulated to address a variety of skin conditions. The DiamondGlow infuses these products deep into the skin where they are most effective. The solution doesn't just sit on top of your skin like a lotion or cream would, instead the patented DiamondGlow handpiece deeply delivers the vitamins, antioxidants, and other therapeutic ingredients that your skin needs most. The proprietary formulations absorb down to where they will be most effective in restoring, brightening, clarifying, and hydrating your skin. Dermalinfusion™ optimizes the benefits of exfoliation and the effects of the serums without the often uncomfortable and painful effects that people experience with most peels or older crystal microdermabrasion systems.
The Results
After the 30 minute treatment, DiamondGlow's wet exfoliation leaves your skin silky smooth, hydrated, bright, and full of the youthful, healthy glow with no downtime. DiamondGlow is also fantastic in conjunction with many procedures performed at Inner Image, improving the results of PhotoFacial, and other cosmetic procedures. It's perfect as a lunchtime facial, and an easy way to relax without taking up hours of your busy day.