Professional Grade Light Therapy
-Amazing Results-
What Does It Treat?
LightStim devices apply different colors (wavelengths) of light directly to the skin. Different devices, and different colors of light, are employed to treat specific skin issues:
Eliminating fine lines and wrinkles
Treating acne
Relieving muscle and joint pain and stiffness
Plants aren't the only living things that can derive energy from light. Light can also stimulate energy production in human skin and other body tissues. Now a simple, non-invasive and powerful light-based therapy is available that can bring about significant improvements in common skin problems while reducing pain: LightStim.
What is LightStim?
LED light therapy is not a new concept. It has been in use by skin care professionals, cosmetic surgeons and aestheticians for nearly two decades. LightStim uses LED light therapeutically, emitting UV-free light energy to rejuvenate and heal the skin. LightStim devices have been approved by the FDA for use on any part of the face and as a treatment for pain relief.
In the Media
In addition to being document in clinical studies, the benefits of LightStim treatment have gained popular attention and been highlighted in publications including the New York Times, Redbook, Self, InStyle and Marie Claire.
How Does LightStim Help Clear Acne?
When your glands produce an excess oil, the pores become clogged, creating an environment in which bacteria can flourish. Pimples are formed on the skin by the excess bacteria. The blue light of the LightStim device kills these bacteria, reducing inflammation and redness. The device is safe for all skin tones and skin types.
Will I Need More Than One Treatment for Acne?
Several treatments will be necessary to attain the best results. Some specialists recommend a series of eight during a four-week period. The staff at Inner Image will recommend a program for you. It is also possible for you to acquire a LightStim device that you can use at home to continue treating any problem areas. Ask us about this.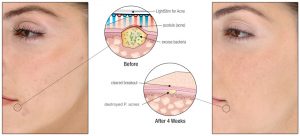 Is it Safe?
This is a safe, chemical-free approach for treating various skin conditions, including warding off acne breakouts.
How Does LightStim Help Wrinkles?
As you age, the body produces less collagen, the natural "filler" that lies beneath your skin and helps it retain its plump, smooth appearance. As the volume of collagen decreases over time, wrinkles become more obvious and skin sags. Light emitted by the LightStim device for wrinkles penetrates the top layer of skin and stimulates the production of more collagen. It can also help the skin regain moisture and elasticity, lighten sunspots, age spots or other discolorations and reduce pore size.
Areas that can be treated include:
Forehead
Cheeks
Laugh lines
Crow's feet
Lips
Jawline
Clinical studies of the use of LightStim found that 100 percent of patients reported that they had observed wrinkle reduction and improvements in skin tone and texture after eight weeks.
Speeding Healing After Surgery
Treatment with LightStim can also be helpful following a plastic surgery procedure. The benefits from this application include:
Reducing post-surgery discomfort
Speeding the healing process
Enabling swelling or bruising to resolve more quickly
LightStim for Pain
A treatment with no side effects, LED light therapy was first used for in space by NASA astronauts. The light energy that the LightStim for pain device emits causes increased blood circulation. This can bring temporary relief to those suffering from arthritis, muscle or joint pain and stiffness. LightStim can also have benefits for those with backaches, sports injuries and soreness following an accident.
The LightStim Bed
LightStim treatment can be provided using a curved LED bed, which is equipped with over 18,000 LED lights and intended to promote whole body healing. The patient simply relaxes on the treatment bed and multiple wavelengths of light penetrate the body.
Regular sessions using this device have benefits for the whole body, including:
Reducing cell damage from free radicals
Better heart health
Increasing blood circulation
This treatment involves no pain or discomfort and no side effects have associated with its delivery. Some believe that regular LightStim treatments can help to increase your ability to handle pain by promoting the release of endorphins.
Why Choose Inner Image?
If you are seeking help with a cosmetic issue, Inner Image offers a holistic, integrated approach that you are not likely to find elsewhere. Refreshing and maintaining your appearance isn't just a matter of dealing with the surface of your skin. A long-term result depends on paying attention to your overall health and the choices you can make that will keep you looking refreshed and youthful.
A Holistic Approach to Beauty
At Inner Image, you'll find a remarkable team of highly-trained and caring women with experience in all aspects of aesthetics, wellness and cosmetic surgery. Team members include physicians, a plastic surgeon, a naturopath, medical aestheticians and skilled nurses. Together, they will work to help you achieve the results you want, with a focus on bringing out your natural beauty.