What is Juvederm Voluma XC
The first and only FDA-approved filler to correct age-related volume loss in the mid-face.  With optimal treatment, natural-looking results last up to 2 years.
Treatment Candidates
Is indicated for deep (subcutaneous and/or supraperiosteal) injection for cheek augmentation to correct age-related volume deficit in the mid-face in adults over the age of 21.
How does it work?
It is normal for our faces to deflate and lose volume due to the effects of aging, gravity and sun damage. Using hyaluronic acid (HA), a moisturizing substance abundant in younger skin, Juvéderm Voluma replenishes volume in the cheeks and around the chin. By restoring volume in these areas, Voluma is also able to lift the mid-face, providing somewhat of a non-surgical facelift effect.
Benefits
Juvéderm treatments require no recovery time. You may experience some slight discomfort or redness, but these should pass over the next day or two. It is important to avoid excessive sun exposure and wear sunscreen when you go out – especially if you're taking a trip to the beach.
The Results
Results from your Juvéderm Ultra Plus treatment can last for up 2 years! It is the first and only of its kind to be approved by the FDA to provide results that last this long.
Once you feel the results begin to fade, you are more than welcome to return for touch-up treatment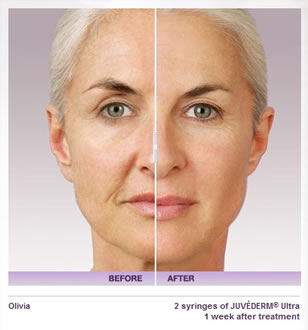 Benefits
No Downtime
Corrects age-related volume loss
Long-lasting results
Contains Lidocaine to help improve comfort during treatment
Subscribe and Save
Register for our newsletter to get the latest information on products, procedures and special offers!